Posted: July 29, 2020 by Argo Road Maintenance
Our fifth ConeZoneCrews story takes us back to the South Peace, where we sat down with Victoria Tschiedel. Victoria is an aunt and a member of our Dawson Creek Bridge Crew. She also just completed her first winter as a plow operator. Today, we asked her what it's like to work on the road, what passing her Class 1 means to her, and what she'd say to other young women interested in pursuing a career in road maintenance. Spoiler: Just own it!
Here is part of her story…
How did you get into road maintenance?
Before I got my flagging ticket, I was in housekeeping. I didn't like where I was in life, and I wanted a change. An old co-worker told me she was flagging and gave me a brief overview of the ups and downs. So, I got my flagging ticket, and, luckily, they were looking for new people.
This was all brand new to you, what surprised you when you started?
I had no idea how people react when they come across you on the road. Some people get really impatient.
And, just how much thought and knowledge go into maintaining the roads. It takes a lot of experience to know what the weather is doing and how the roads will react to what you're lying down. Not every area is the same. In the winter, for example, when we're sanding, there will be some areas where it's really cold, so all we can do is put sand down, and then, in another area, it will be a little bit warmer, so we can put salt down too.
Or things like washing bridges. It seems like such a small thing, but it's necessary work. We clean the bridges to remove the salt and calcium that build up over the winter. The salt and calcium can improve traction in the winter (when used under the right conditions). But, they can also deteriorate the road and bridges. By washing it off, we can maintain structural integrity and limit the need for more substantial maintenance.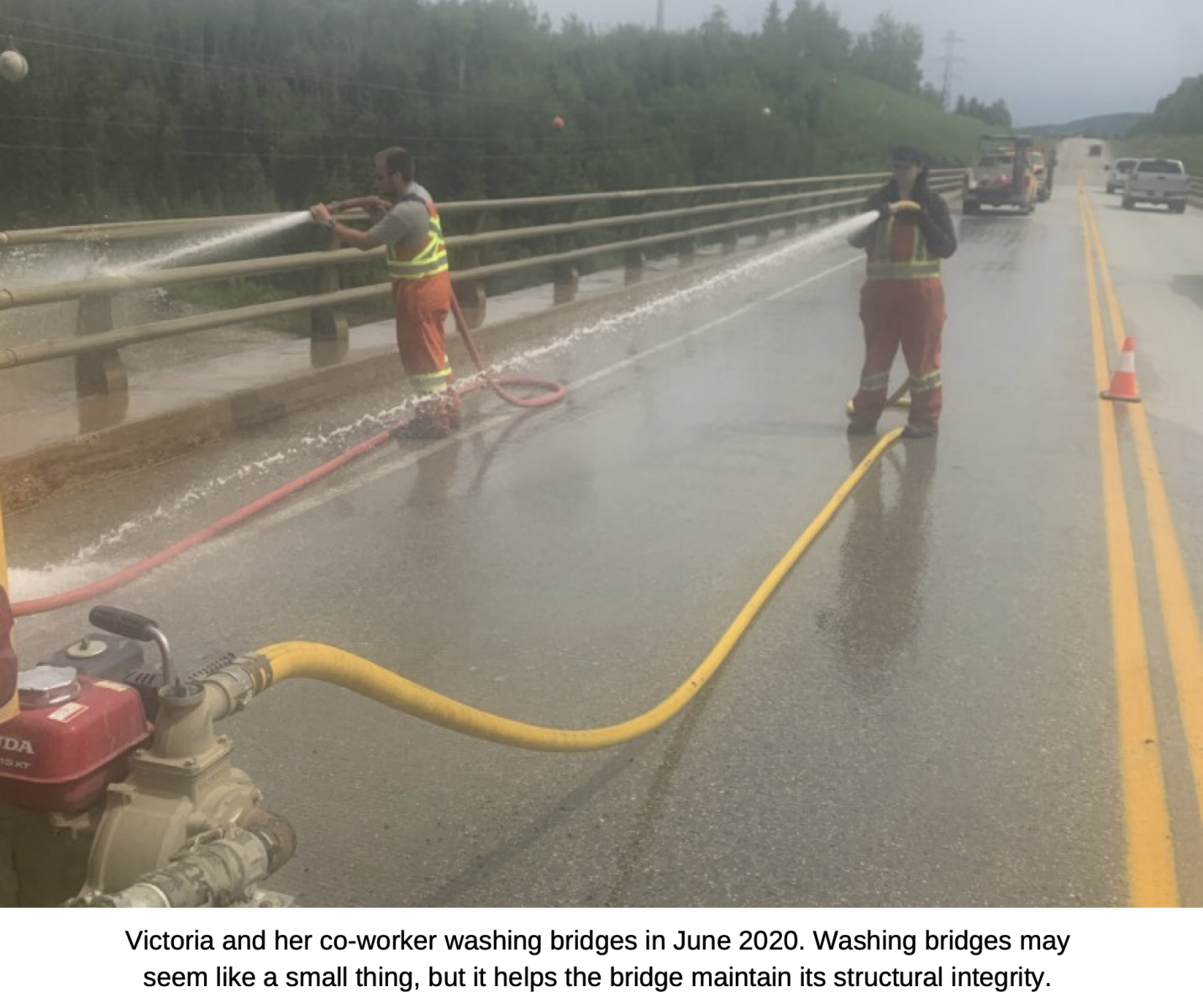 Cool!
You've been doing this for five years now. Have you had any close calls?
I'm fairly lucky in that sense. I haven't had to deal with too many. I hear stories from my colleagues though. So, when I'm out on the highway, I always try to think through all the things that might happen and how I'll respond: if someone pulls into my lane, where am I going to go.
For me, the hardest thing has been interacting with drivers when I tell them the road is closed or that they have to wait because it's single lane, alternating. That's hard. We try really hard to minimize the impact on the travelling public. But we can't fix the potholes, for example, unless we're out there, and to do that, to make the roads safe and keep ourselves safe, we need to divert traffic.
Definitely. I also wanted to ask you about passing your Class 1 Driver's License test last August and becoming an equipment operator. That's no easy feat. What can you do with this license, and what was preparing for and passing the test like?
With this license, I can drive bigger rigs. I'm allowed to drive with a truck and trailer and carry around bigger equipment such as excavators and skid-steers, rather than just driving our standard single body trucks, like plow trucks [which you can do with a Class 3, but not a standard license].
Preparing for it was a big and scary task – for me. I never dreamed of getting my Class 1, or my Class 3. Before getting my flagging ticket, I had no literal experience with trucks. After I got my ticket, I was fine being a flagger, a labourer. When the guys asked me if I was interested in getting my Class 3 [one step below a Class 1], I was like, no way! I could never drive those big trucks. You gotta be crazy to plow snow in the winter. It was something I never thought I'd be able to do.
And then the opportunity presented itself, and the guys I worked with were like go for it. They really helped give me the confidence to be like, yeah, you know what, I can do this.
I feel a lot of accomplishment that I did this and thank my former boss and Argo for giving me the opportunity. It really helped me develop my confidence. And, I want other women to feel that too – to know that they can do this. They can occupy this space.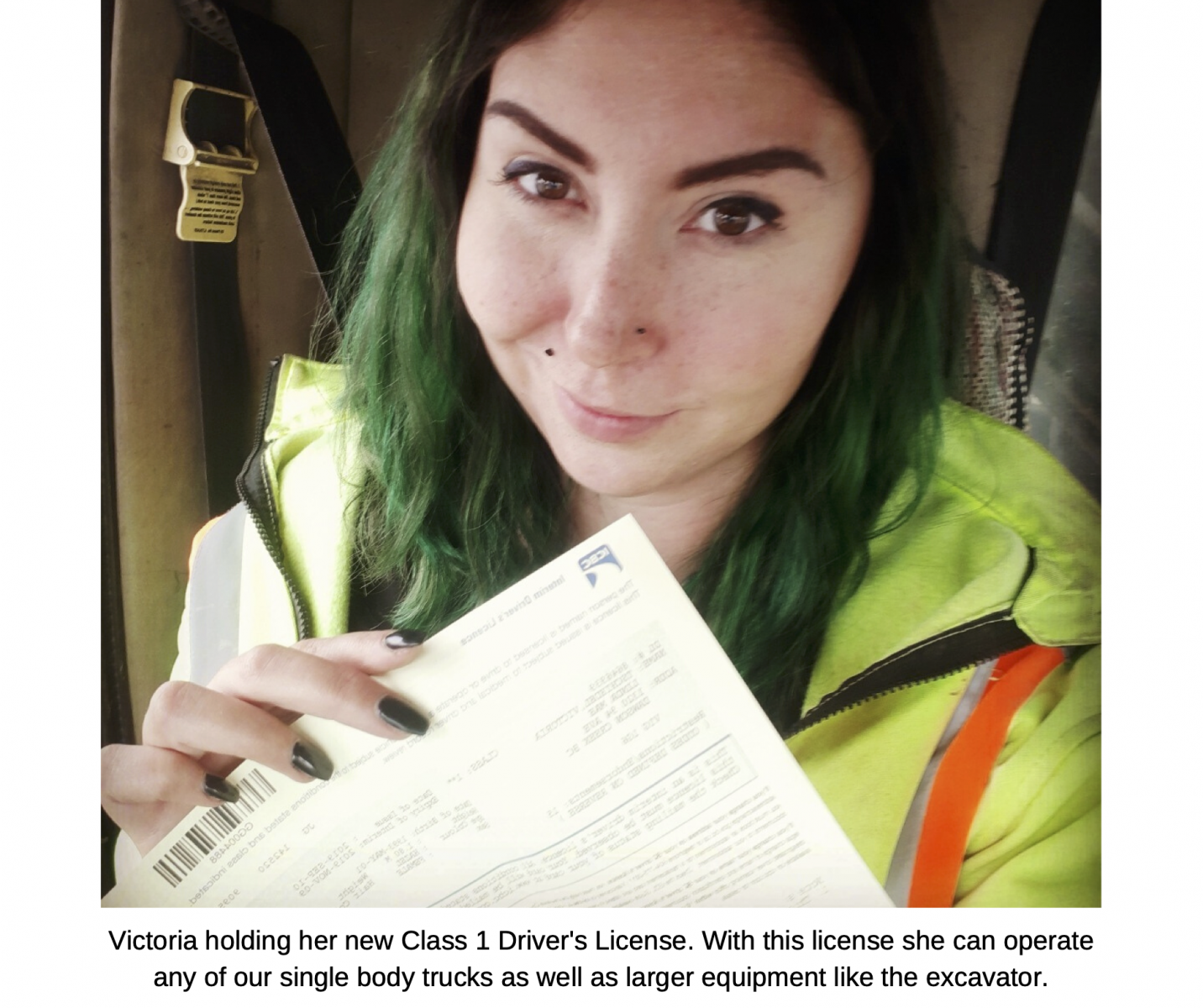 I'd like to ask you what advice you'd give other young women. But, first, could you tell me a little bit more about the support you received from the rest of your crew? It sounds like it never occurred to them that you couldn't do it: they just assumed you'd do it and get it done right. That must have meant a lot.
Oh yes, for sure. A lot of my confidence comes from the guys I work with. They made it really comfortable for me to be able to learn properly and to be able to get where I am.
And, my boss Harv, he's always felt like that – that it was a no brainer that I'd go get my Class 1. I admitted to him once that I was feeling a bit uncertain, that my confidence was low, and he asked me – actually, he more said to me, "Why would you have low confidence in yourself. Look at what you've accomplished. You passed your Class 1 on your first try. None of us on the crew have done that. You should feel good about yourself."
And, I keep forgetting that. Passing your Class 1 on your first try isn't easy. There are a lot of minor mistakes you could make without realizing it. The guys really boost me up. They're like, you go girl!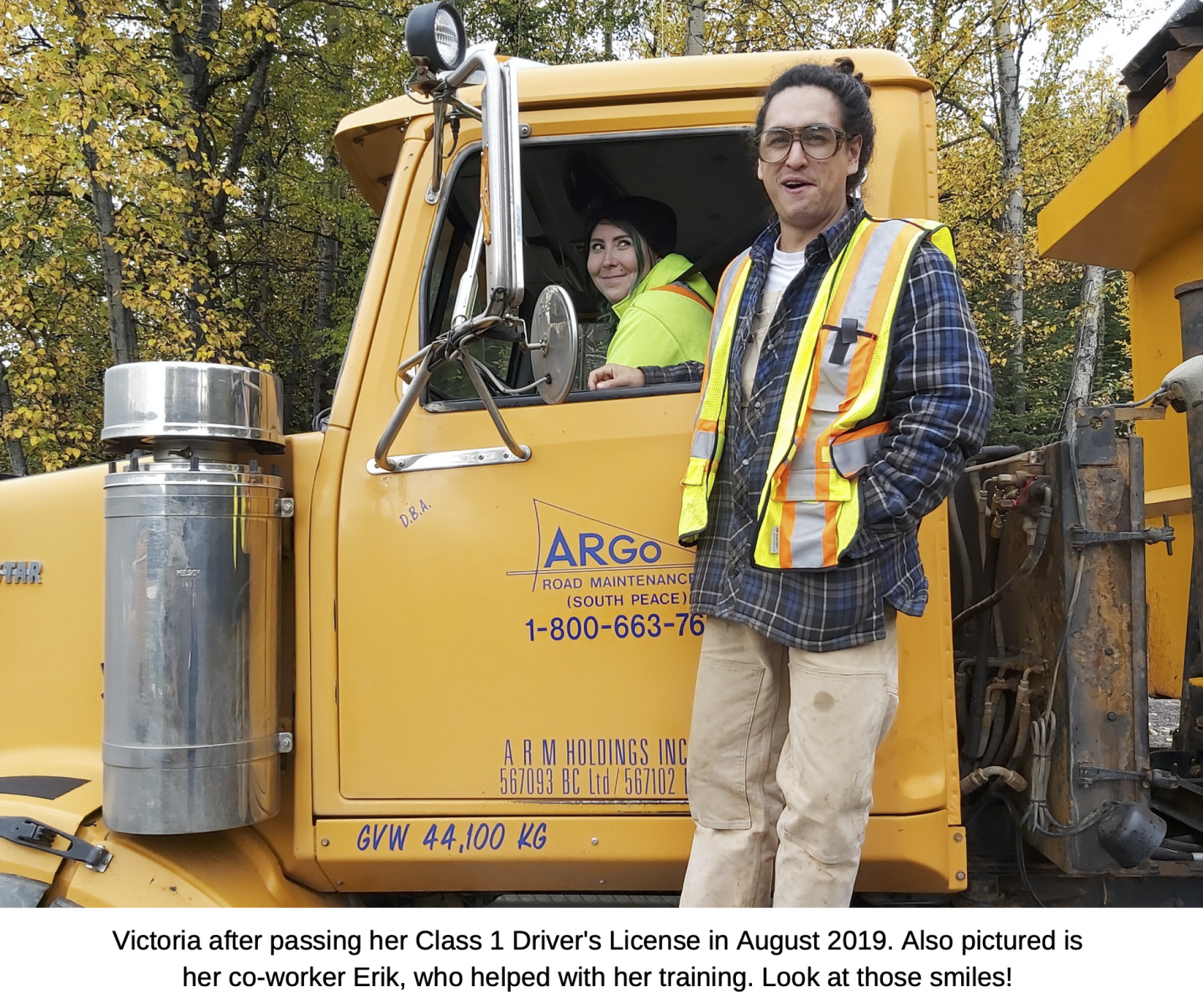 I want to pause on this for a second. Road maintenance is still a very male-dominated industry. And, we sometimes hear that women don't always have the best experiences. It sounds like your experience has been mostly positive.
Yeah. Construction, in general, is such a male-dominated environment. For the most part, I've been fairly lucky to be working around really nice guys. I mean, I've been around some not-so-nice men, who speak, we'll just say, not very nicely about women. Not specifically about me – at least not that I've known – but around women in general. It sounds bad, but you kind of learn to put that aside. And, if something is directed at you, then, of course, every woman should be able to say, "Hey, no. That's not right. You're making me uncomfortable."
The men I work with, though, they've never put me in a position where I've had to do that. We're a real team. We support each other and we learn from one another. We talk about stuff. The crew has been a real comfort for me. That's one of my favourite things about the job - being able to talk to my co-workers and learn from them.
Speaking of learning, is learning to operate these big machines hard?
You kind of have this longer end on you. You have different space margins, so yeah, it definitely takes a little while and can be a little intimidating. When the conditions are really poor, and you're one of the first people on the road, it can be a pretty intense experience. On those days, I think about my family a lot, making it safe for them to travel. It motivates me.
And, after a while, you kind of get used to it, especially – before this whole COVID-19 business – when you could have more experienced operators drive with you, and they would give you pointers and stuff. That's always something I liked to have. I would always tell the guys, you know, I don't mind having pointers given to me. I want to be able to better myself.
[As part of our response to COVID-19, there is only one employee per vehicle whenever possible.]
I want to learn different things. And that's what I really like about this job, and especially working with bridge crew: I have the opportunity to learn different things and use different equipment.
Do you have a favourite piece of equipment?
I like the Bobcat skid-steer and the loader. The skid-steer is one of our smaller pieces of machinery. It's just a really mobile and fun piece of machinery. We use it for our smaller bridge work to help rebuild approaches and scrape off all the dirt. Our loader is pretty much exactly like a Bobcat, but bigger. We use it to load our sand trucks and, well, pretty much any sort of box truck. You can pretty much do the same things that you would with a skid-steer, just at a slower pace. Those are some of my favourite things to use: they are kind of cool machines that you can use to do a bunch of little things.
I've also had a couple of opportunities to practice with the excavator in the yard. I didn't go anywhere, because I'm still in training on that piece of equipment, but I loved it! The guys were just laughing at me, 'cause you could just see this girl, in this giant excavator, spinning around, with this giant smile on her face, like, "wow, this is so cool."
I would have loved to see that! It's clear that you're really passionate about your work and really enjoy working with your colleagues. What would you tell a young girl who was thinking about getting into the road maintenance or heavy construction industry?
If they wanted to pursue something like this, if they wanted to give it a try, I think one of the first things I would tell them is, don't take any shit. No matter who comes at you, don't take any shit from them. You are allowed to occupy the space you are in. You are allowed to own that. You should feel confident in yourself. And, don't ever let that confidence in yourself drop. No matter what anyone says to you, you are allowed to be here. And, you're allowed to feel feelings.
I would also say: don't be afraid to talk. Let yourself feel that confidence. That you want to do this, that you're able to do something like this, is awesome. You can (and should) feel good about that. Just own it!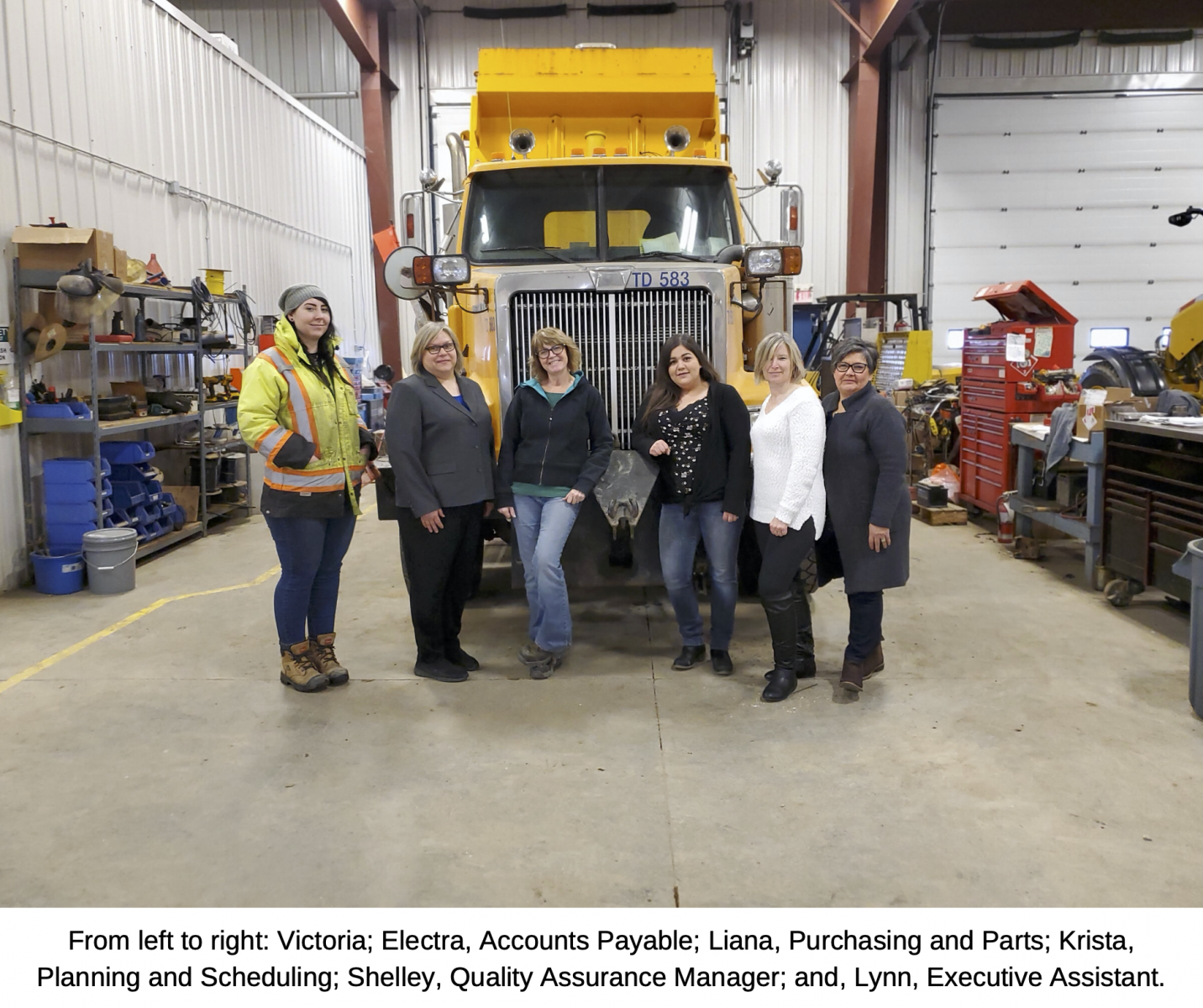 We're thrilled to have Victoria on our team, and we couldn't be prouder of her for passing her Class 1 and rocking her first season as a plow operator. And, we couldn't be more impressed with the guys on her crew. Victoria and her colleagues aren't just keeping the roads safe, they're breaking stereotypes and setting an example for future road builders.
Interested in meeting more of our crew? Check out Reg's, Riley's, Stan's, Tyler's, and Adam's stories.