Posted: June 17, 2020 by Argo Road Maintenance
Our second ConeZoneCrews story takes us down to our Thompson service area, where we spoke to Riley Bauer. Riley has been a part of our team for years: first as part of the road crew, then as a night shift foreman, then as a paving supervisor, and now as our quality assurance (QA) manager. Riley also has a wife, two young kids, and two dogs.
Today, he tells us why he loves his job and describes the ever-present danger of working on the road, including a close call that almost took him away from his family.
Here is part of his story …
How did you get into road maintenance?
A friend that I worked with at a previous company left to come work for Argo. Over the winter, he was boasting about how amazing it was. He suggested I try it. It seemed like a pretty cool job, so I gave it a try and haven't looked back since.
What do you like about it?
There's so much variety to it. One day you could be running a water truck; the next, you could be out hand brushing, mowing the centre meridians, mowing the right-hand shoulder, spray patching, replacing culverts, or installing cattleguards. There's just so much variety to this job, and that keeps it interesting for sure. No two days are the same.
When you're out there doing the manual labour, you're out there breathing the fresh air, you're sweating, and your back hurts, and you know in the back of your mind that you're making a safer road system for the public:
For example, if you're out pothole patching, you know the public isn't going to damage tires and rims. Or, if you're out paving, you know you're smoothing out roads that have lost their integral structure over the last 20 years, and you're bringing life back to it. You get to see the work you've done – and you know you've done something good for the community.
And now that I'm in management, I get to see more of the company's technical side and work with the crews to make sure we're continuously improving our processes to provide the best end product. I keep up to date on all the inspection logs and maintain and control all of our (system improvement) forms and manuals. It definitely keeps things interesting.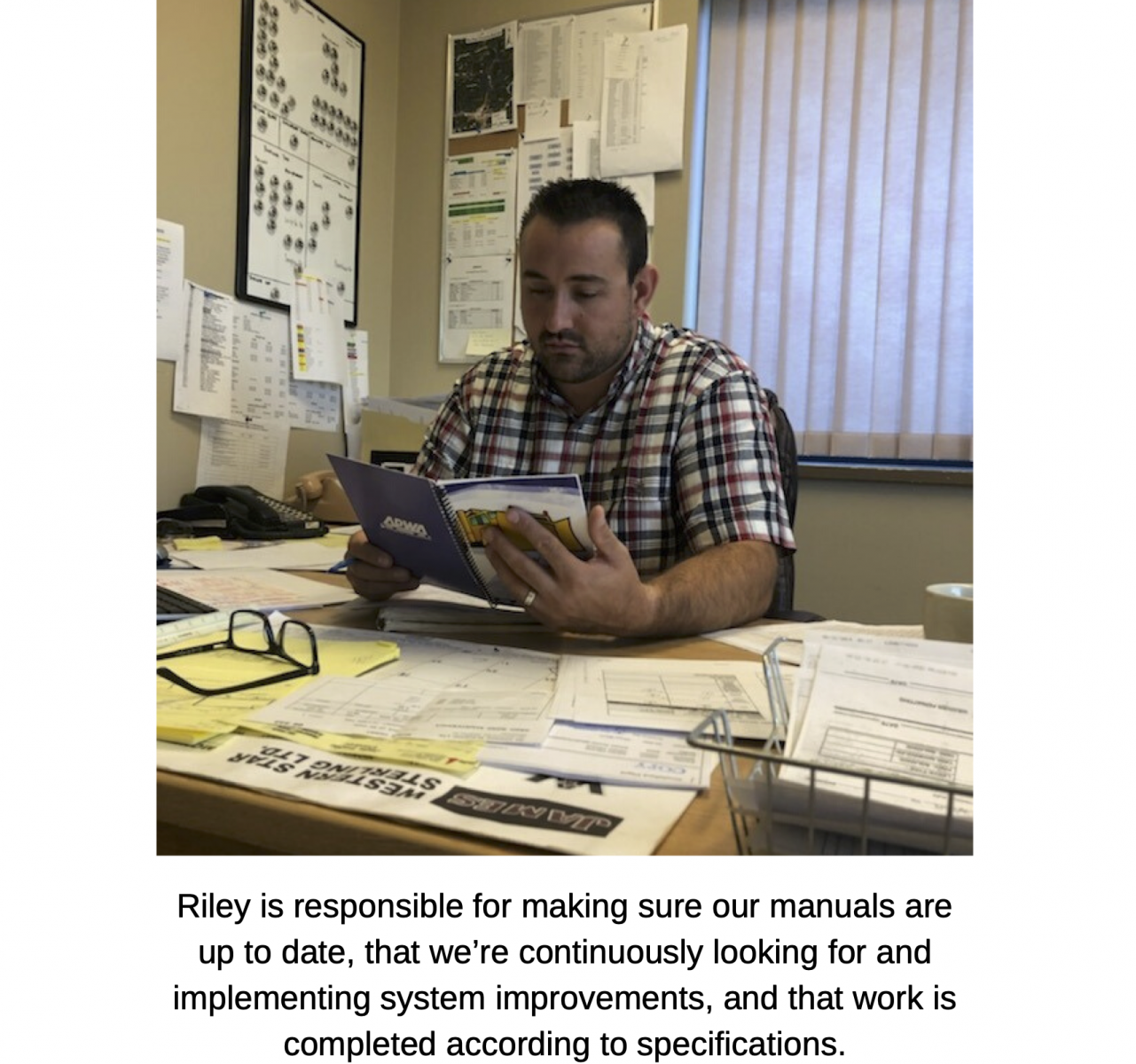 What gives you the best sense of accomplishment at work?
The biggest sense of accomplishment is the completion of a big project, especially if I'm involved in it right from day one.
Like right now, I'm working on a ditching project for Tunkwa Lake, and it involves a lot of utility locates and permits for right-of-way-access. We'll also be working over oil lines, natural gas lines, and a transmission pipeline, so we've been in contact with all the different providers because we have to have inspectors on site. So, we have to make sure that we have all our permits in and our locates are all done so that once the job starts, it can just start and there are no real major hiccups. The completion of a big project like that is a big pat on the back. I think that's the biggest accomplishment.
And, just being part of the day-to-day operations, being able to see the actual achievement of the work, so that when the contract flips over on October 1st, we know that we've accomplished a lot of good things for the service area.
It sounds like a lot of project management.
Yep, it is. A lot of project management, And, I love doing that type of stuff!
You've also mentioned the service area and the people in it a few times. I get the sense that it's not just the work you love, but that you also really care about the community.
I do. I live in Kamloops, just like everybody else. I have two young kids. I take my family on a lot of these roadway systems. We travel up to lakes; we go camping; we travel the backcountry; we go get firewood. It's important to me to provide the people with the greatest amount of service we can.
Speaking of the community, what do you wish people knew about the work you do?
What it's like to be out there. It's scary. Honestly. The crews are out there risking their lives, pretty much every day.
We've had multiple occasions where drivers have run into the back of our vehicles or have come flying in through our lane closures and almost hit the crew and flagging team. There are often brake marks and skid marks leading up to our tapers* because drivers just aren't paying attention.
[Tapers refer to the area where drivers have to transition from the regular traffic flow to the work zone traffic flow, i.e., merge into single lane.]
It's really hard sometimes. When the speed zone has been reduced to 50 km/h, and you have someone slide through the lane closure at 110 km/h as you're trying to do your work right beside the dotted line, with your head down. It shakes you up. You need to take a break – refocus. And, when equipment is hit, it can cause significant delays. The work stops, and the equipment has to get towed back to the shop, where it could be out of commission for weeks. When one of our crew is injured, that has an even greater impact. It completely halts the work. More importantly, it has very serious physical and mental consequences for the crew member, their families, and the rest of the team.
You do get a lot of people that do respect the cone zone, you really do, but you just need one bad apple to ruin for everybody. And, I think a lot of times, when people think about road construction, there's an annoyance, a sense that we're just causing traffic jams, slowing things down, but at the end of the day, we're all human beings.
We've all got families. We've got kids. We've got wives. We've got husbands. We've got moms. We've got dads. We've got aunts and uncles, just like everybody else, and, you know, we would like to go home and see our family at the end of the day, just like everybody else. So it's really important that people slow down in construction zones and drive with care [i.e., leaving the cell phone alone]. This makes sure we make it home to our families and allows us to do a good job.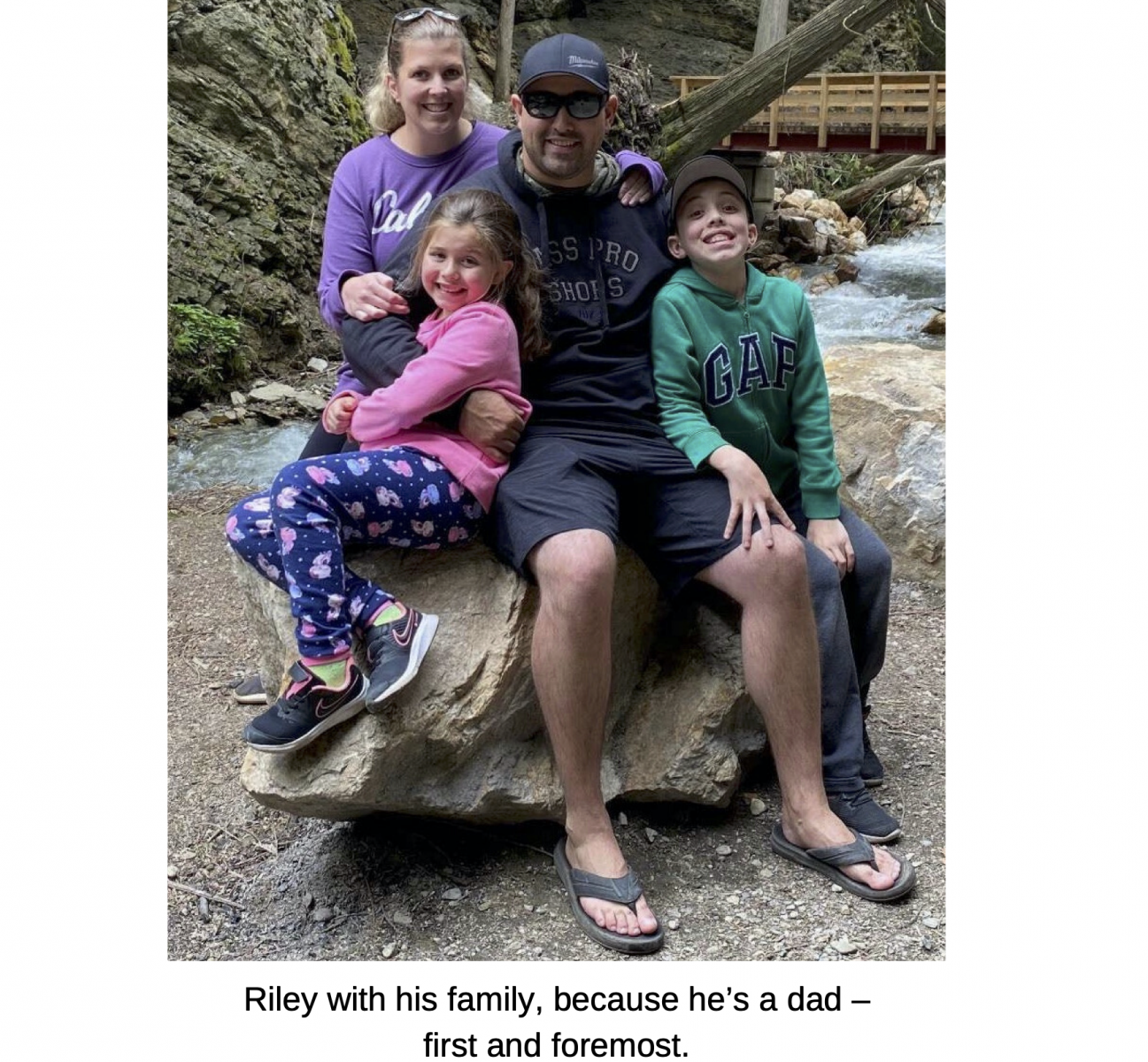 Ugh, that sounds awful. Have you personally had one of these close calls?
I've had a few close calls. The worst one happened about two years ago. I was still on the road crew – I was the night shift foreman. We were clearing snow off the bridge decks, and I was driving the flagging truck. I had just set out all my signs, and I was getting ready to get out of the truck and start shovelling snow from the loader as he was cleaning up.
A drunk driver was driving the wrong way down the highway, and he hit me head-on – [luckily] while I was still in the vehicle. It pushed me back about 60 ft and spun me 180 degrees around.
Luckily, we both walked away from it, but still every time, you know, you drive past where it happened, you get that little bit of that rock at the back of your throat kind of thing. So, yeah, that was kind of the most unsettling thing that happened to me. It was a terrible thing, but like I said, I'm still here. I still get to be part of my family. So, good enough.
That's … I can't imagine doing what you and the crew do.
We have a good group. We have one of the best crews – I feel anyways. They're very loyal to the job. They love what they do, and they love seeing that end product. And they're all 100% aware that every time they step out of that truck and on to the highway, they're risking their life being out there. And they still go out, and they still give us their best every day. We do appreciate everything that they do – that's for sure.
We sure do! And by working together, and committing to slowing down in roadside construction zones, pulling over when we encounter vehicles with flashing lights, and putting our phones away when we're driving (yes, even when we're waiting in the construction line), we can make sure that our roadside workers, and roadside workers across the country, continue to make it home to their families.
For more ConeZoneCrews profiles, check out Reg's story, and stay tuned for Stan's story, coming out next week.