Posted: June 24, 2020 by Argo Road Maintenance
For this ConeZoneCrews story, we're heading back to the South Peace, where we had the opportunity to sit down with Stan Fraser, a former oil patch worker and now a long-time employee, sign guy, and grader operator on our Chetwynd team. We asked what prompted his switch to road maintenance, why he loves his job, and what it's like to work on the highway. We also asked about his work as a mental health advocate.
Here is part of his story …
What brought you to road maintenance?
I'd been working in the oil patch for about 25/30 years and needed a change of pace – more time for my family and for myself. Road maintenance is more family-oriented: I can be home every night. It's also a lot more team based – you get a chance to get to know the people you work with. So. I applied, and they hired me, and I liked it, so I stayed on.
What (beyond the work-life balance) do you enjoy about your work?
It's diverse. You're not going and doing the same thing day in and day out. I'm also an out-doorsy kind of guy, and you're outdoors and working on the highway, with all kinds of different equipment, a great team, and great leadership. It's actually a real nice place to work.
When you're at work, what gives you a sense of accomplishment?
The greatest accomplishment is that you made the road safe and people can go from point A to point B safely. The main goal is for everybody to be safe.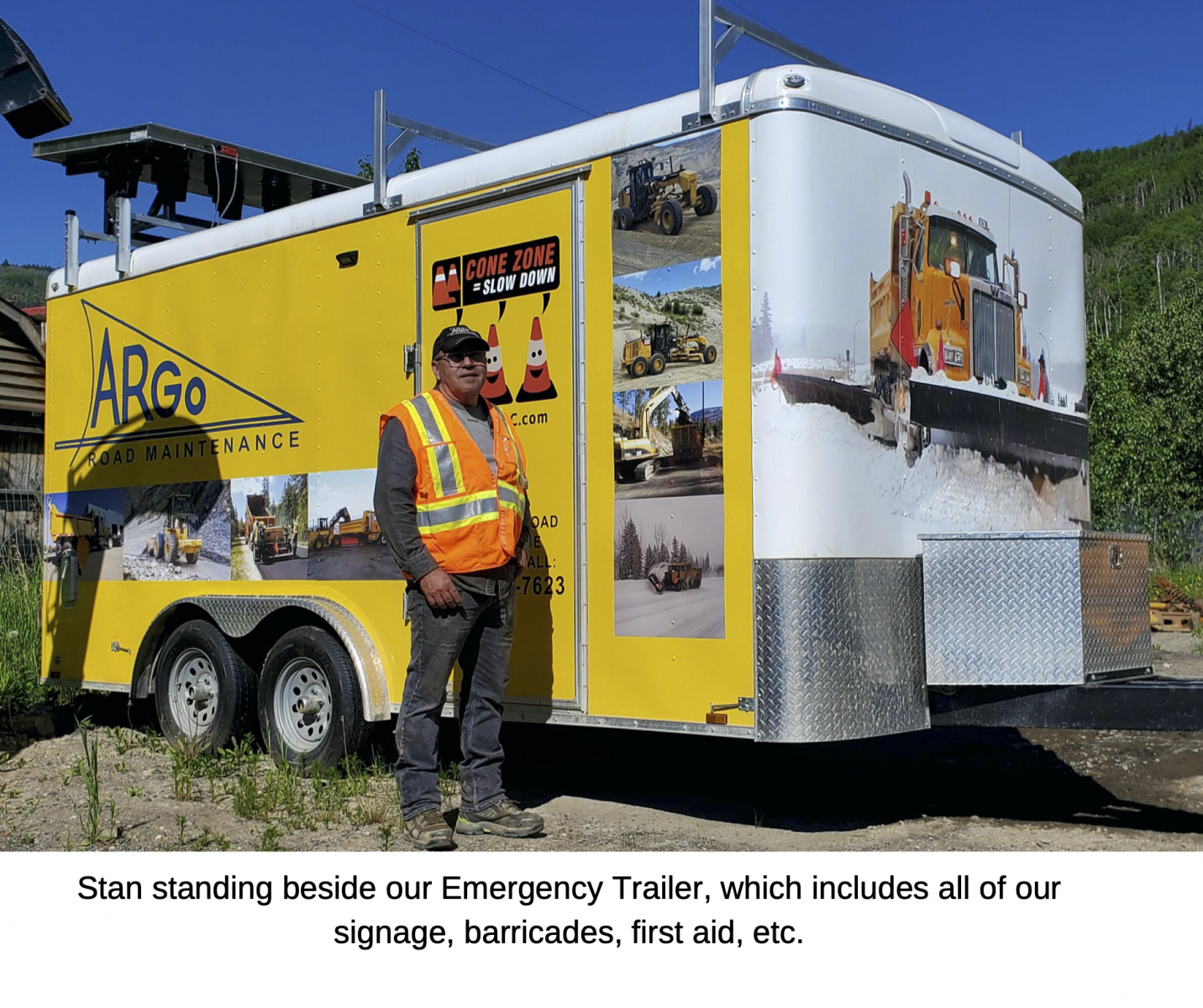 Is that what you're thinking about if you're having a tough day or you're dealing with the aftermath of a particularly challenging weather event?
Yes. I'm part of this community and my family, friends, and loved ones are on the highway. When it really gets tough, you really look towards the community. Especially around Christmas time, and during holidays, you're really thinking about the people on the road province-wide, and, when you care, it can be stressful because you want everybody to arrive home safely.
I imagine that's a tricky balance. You want to get the job done well, but you also want to get it done as quickly as possible.
Yes, absolutely. Especially in the wintertime when there's a lot of snow and ice, the highways can be terrible. We're the frontline workers – the first ones out. Sometimes we have to go 20 km/h and make multiple passes just to make the highway passable. Drivers don't always realize that and will come up behind us going 100-110 km/h and then they try to pass us at 120km/h not realizing that the conditions in front of us are not the same as they are behind us. (It's really important that all drivers slow down and drive to conditions.)
Other times we have to go back to the yard to load up with sand, change blades, or because the machine needs repairs. It can get tough, because you are thinking about the people on the road who are trying to get home to their families (or to work), but you're also trying to stay safe – navigating really challenging road (and sometimes whiteout) conditions and watching for other drivers.
But there's whole team – coworkers and equipment – working to accomplish that. It's not just me. There's a whole team working together to get this done.
That sounds like a lot to think about. What is the most challenging part of your job?
The challenging part is accepting that not everyone will adhere to the principle of the highway. You always gotta be alert. For example, when you're grading, you're slow, and everyone around you wants to hurry, hurry, hurry.
One time that sticks out in my mind (this happened quite a number of years ago), I was driving a grader with a moldboard, and a driver hit me trying to pass. I caved in his frontside tire and he spun around right beside me and didn't even bat an eye. His tire was all twisted, and he just turned around and started going down the highway. Sparks were flying. He didn't make it too far.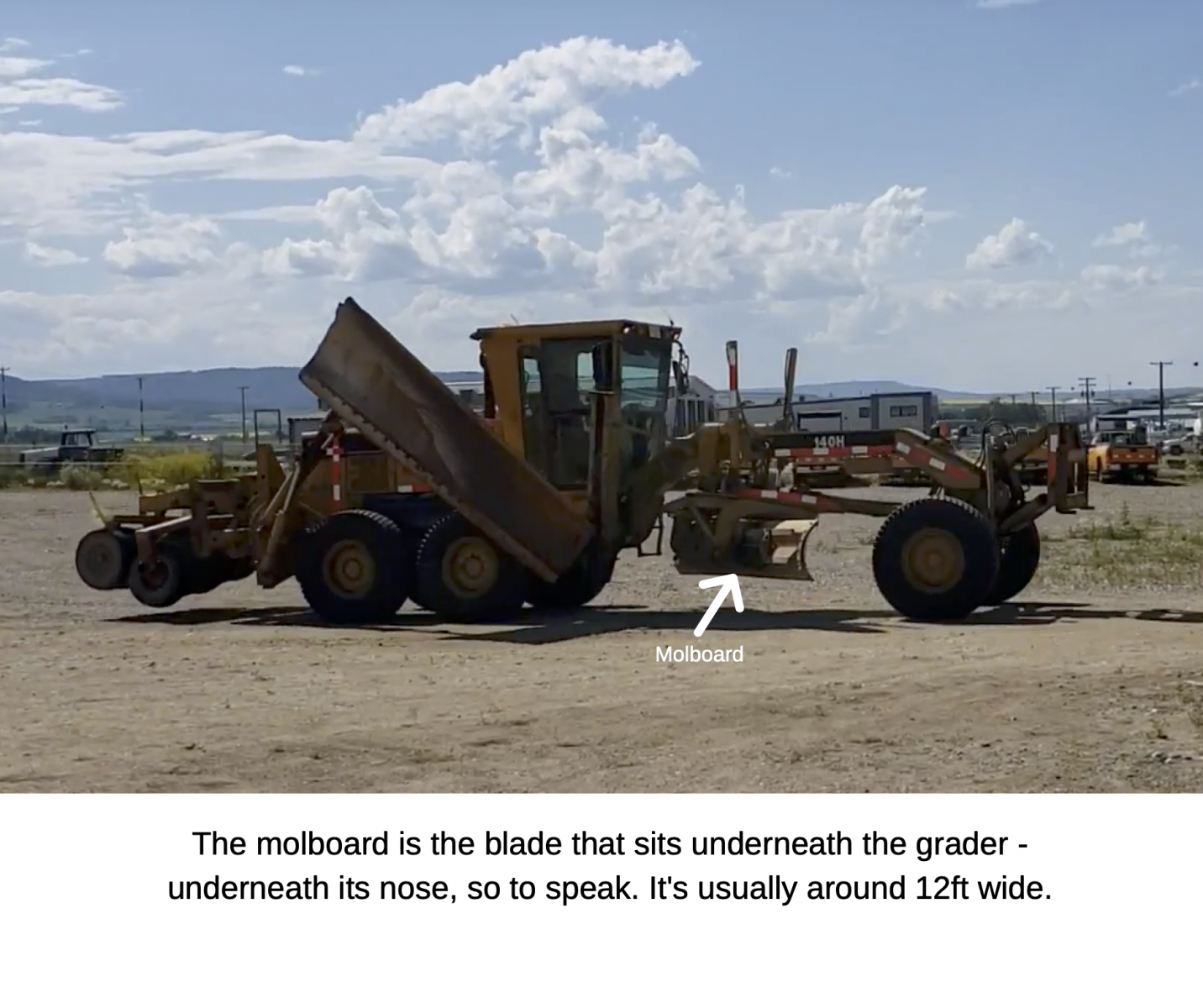 What's going on in the back of your mind when things like this happen? It must be terrifying.
It is. The best thing you can do, obviously, is to be as safe as you can. You gotta make sure that your life, and the lives of the people around you, and the people you love, are safe. That's all you can do.
It's scary: drivers passing us on corners, on double solid lines, when all the lights are flashing, speeding through work zones. You really gotta have eyes on the back of your head.
I've pretty much seen it all. Cars rolled off the road, in the ditch, accidents. A lot of times drivers don't drive to conditions for whatever reason, whatever's going on in their life. It's a challenging spot.
Witnessing accidents like the ones you describe above must have an impact on a person's mental health. What do you tell the rest of the team when they have one of these experiences? I imagine you've had some people come back really shaken.
Oh yeah. We do talk about it. We identify things that we could have done better. And we have tailgate meetings where we try to cover all the bases. We try to make sure that everybody understands what the possibilities are and are aware that the company has resources available, if anyone needs them. You can't eliminate everything, but you can make sure you're as safe as you can be during that day so everybody goes home.
What's the work like physically?
In the grader, in the summer, and especially in the winter when you're plowing, you're always tensed up, because you've got so much pressure, so much power, and you've gotta watch for so many things. In the wintertime, you've also got adverse road conditions. It's slippery, and you're always watching for things: people are passing you and you have to make sure the wing is doing what the wing is supposed to be doing.
At the end of the day you're just plain worn out. But I enjoy it, because at the end of the day you can you can see what you've accomplished.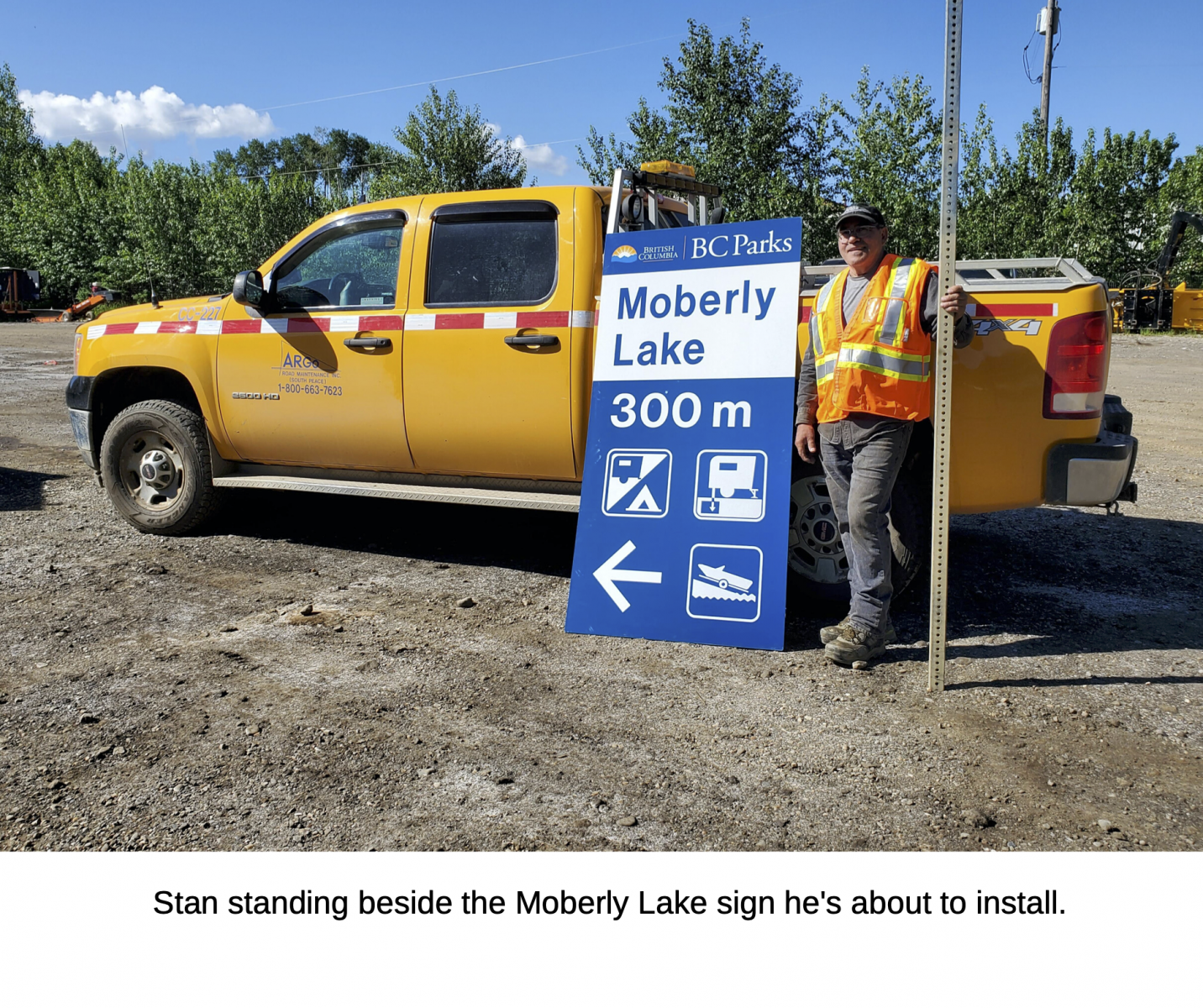 That sounds really rewarding. Now, before I let you go, I'd like to ask about the work you're doing to raise awareness about mental health and to combat the stigma that's often associated with mental illness. Could you tell me a little bit more about this work and the mental health walk you did last fall?
I've done several of these walks. In 2016 I walked 465km around the South Peace. Last year we did a walk from Moberly to Chetwynd. This year I'm planning to walk from Fort Nelson to Chetwynd (555km). I'll start out August 20 and end up in Chetwynd on September 2.
I'm just raising awareness. I look at mental health the same way I guess people looked at cancer when Mr. Fox started to do his walk, and with his help cancer became the forefront.
I believe there are a lot of issues out there, that people suffer in silence because of the stigma that goes along with mental illness. There's a lot of people that suffer – that go through tough times silently. There are a lot of suicides that are happening, because we don't understand, we don't know, but we like to judge.
I'm trying to bring that forward: that it's OK; that it's alright to struggle with mental illness. I'm also trying to get more men involved – to get men to talk about their feelings and where they're at with so many things. We're not superman, nor should we act like superman. We're human, and we've got feelings, and we hurt, and we cry – either alone, or silently, or whatever.
I took to walking, because we can only – in my opinion – tackle this thing one step at a time. When you're covering kilometers, say 555km from Fort Nelson to Chetwynd, it starts to get a little bit overwhelming, but it's achievable when you do it one step at a time, and that's what I gotta do. I gotta put my head in the mindset that one step is one step closer to my goal.
Wow, thank you, Stan, for the work you're doing to raise awareness for mental health and for the work you're doing to keep our roads safe. We feel incredibly lucky to have you on our team!
To learn more about Stan's advocacy and to receive updates on his upcoming walk, follow him on Facebook at Walk and Talk the Peace - A Journey to Promote Mental Health Awareness: https://www.facebook.com/Walk-and-Talk-the-Peace-2020-581812349164649.
If you or someone you know is struggling, reach out for help:
You are not alone.